WIE Panel for MetroAeroSpace - June 24, 2021
Sharing ideas with experienced and early-stage researchers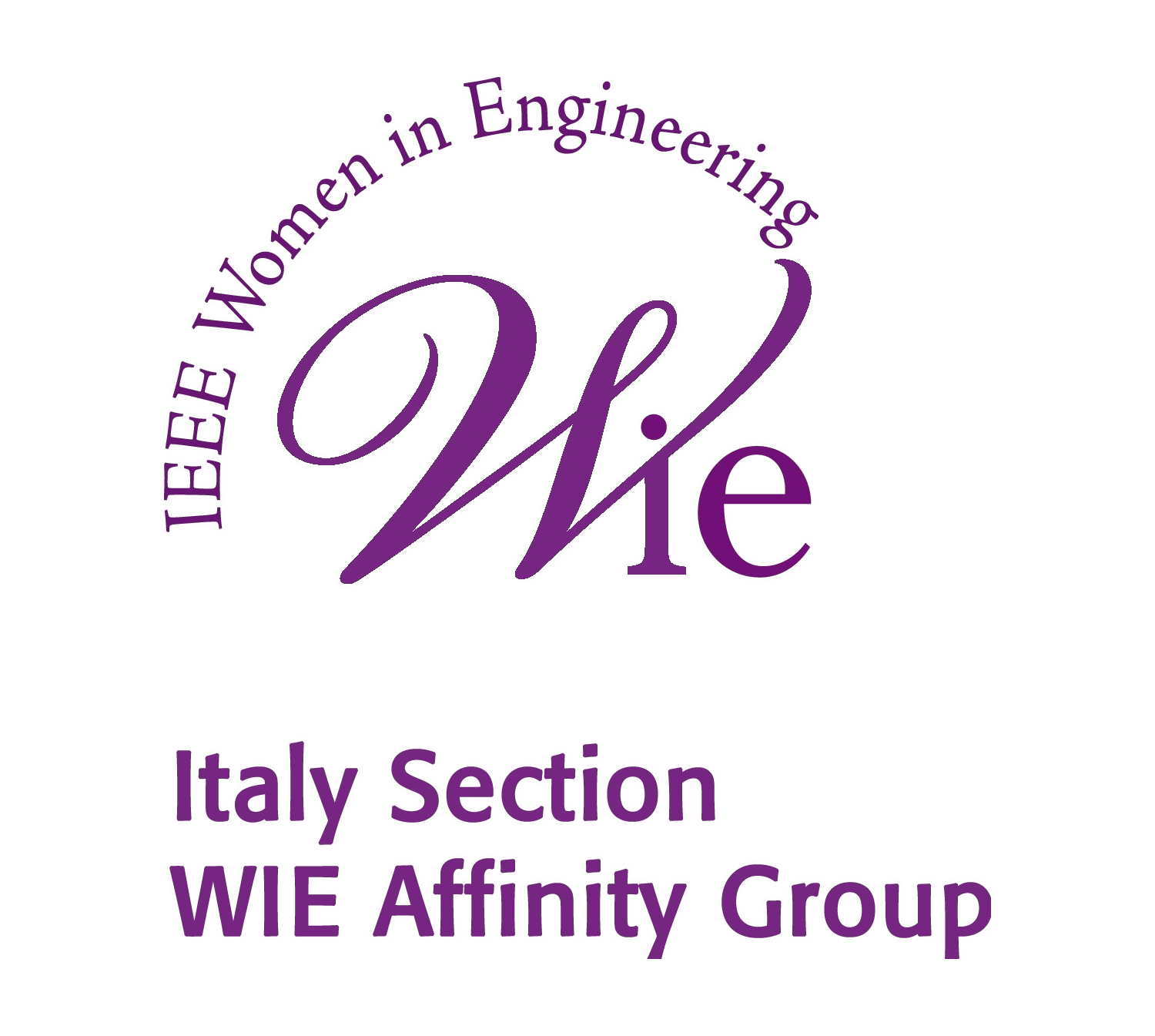 In line with the objectives of the WIE Commitment Chart "Steering girls to STEM" (https://site.ieee.org/italy-wie/steer2stem/), the purpose of the panel is to promote female models who are role models and who carry out mentoring activities towards young minds.
To this end, the panel wants to highlight how from the comparison between experienced and early stage researchers on their respective experiences it is possible to identify guidelines and prospects for growth and good practices that increase the presence of young women in the specific fields of research.
The structure of the Panel will be composed as follows: # 3 Topics: Measurements; Telecommunications; Radars; # 3 Speakers experienced researchers (women) with # 2 young researchers / Ph.D. students for each experienced researcher.
Each speaker, role model in the reference sector, will address one of the three selected topics, with a talk on her sector; then the two early-stage researchers (two for each Speaker) will take the floor and will be able to briefly speak about their experience and ask questions to the Speaker.
Athina P. PETROPULU
Rutgers University, US
Athina P. Petropulu is Distinguished Professor at the Electrical and Computer Engineering (ECE) Department at Rutgers, having served as chair of the department during 2010-2016. Prior to joining Rutgers she was a Professor of ECE at Drexel University (1992-2010). She held Visiting Scholar appointments at SUPELEC, Universite' Paris Sud, Princeton University and University of Southern California. Dr. Petropulu's research interests span the area of statistical signal processing, wireless communications, signal processing in networking, physical layer security, and radar signal processing. Her research has been funded by various government industry sponsors including the National Science Foundation (NSF), the Office of Naval research, the US Army, the National Institute of Health, the Whitaker Foundation, Lockheed Martin and Raytheon.
Dr. Petropulu is Fellow of IEEE and AAAS and recipient of the 1995 Presidential Faculty Fellow Award given by NSF and the White House. She is President-Elect for the IEEE Signal Processing Society for 2020-2021, and in the past, has served as Editor-in-Chief of the IEEE Transactions on Signal Processing (2009-2011) and IEEE Signal Processing Society Vice President-Conferences (2006-2008). She was the General Chair of the 2005 International Conference on Acoustics Speech and Signal Processing (ICASSP-05), Philadelphia PA, and is General Co-Chair of the 2018 IEEE International Workshop on Signal Processing Advances in Wireless Communications (SPAWC). She is recipient of the 2005 IEEE Signal Processing Magazine Best Paper Award, the 2012 IEEE Signal Processing Society Meritorious Service Award, and is co-author of the 2020 IEEE Signal Processing Society Young Author Best Paper Award. She was Distinguished Lecturer for the Signal Processing Society for 2017-2018, and is currently Distinguished Lecturer for the IEEE Aerospace & Electronics Systems Society.
Maria Sabrina GRECO
University of Pisa, Italy
Maria Sabrina Greco graduated in Electronic Engineering in 1993 and received the Ph.D. degree in Telecommunication Engineering in 1998, from University of Pisa, Italy. From December 1997 to May 1998 she joined the Georgia Tech Research Institute, Atlanta, USA as a visiting research scholar where she carried on research activity in the field of radar detection in non-Gaussian background. In 1993 she joined the Dept. of Information Engineering of the University of Pisa, where she is Full Professor since Dec. 2016. She's IEEE fellow since Jan. 2011 and she was co-recipient of the 2001 and 2012 IEEE Aerospace and Electronic Systems Society's Barry Carlton Awards for Best Paper and recipient of the 2008 Fred Nathanson Young Engineer of the Year award for contributions to signal processing, estimation, and detection theory. In May and June 2015 she visited as invited Professor the Université Paris-Sud, CentraleSupélec, Paris, France. She has been general-chair, technical program chair and organizing committee member of many international conferences over the last 10 years. She has been lead guest editor of the special issue on "Advanced Signal Processing for Radar Applications" of the IEEE Journal on Special Topics of Signal Processing, December 2015, guest co-editor of the special issue of the Journal of the IEEE Signal Processing Society on Special Topics in Signal Processing on "Adaptive Waveform Design for Agile Sensing and Communication," published in June 2007 and lead guest editor of the special issue of International Journal of Navigation and Observation on" Modelling and Processing of Radar Signals for Earth Observation published in August 2008. She's Associate Editor of IET Proceedings – Sonar, Radar and Navigation, Editor-in-Chief of the IEEE Aerospace and Electronic Systems Magazine, member of the Editorial Board of the Springer Journal of Advances in Signal Processing (JASP), and Senior Editorial board member of IEEE Journal on Selected Topics of Signal Processing (J-STSP). She's also member of the IEEE AES and IEEE SP Board of Governors and Past Chair of the IEEE AESS Radar Panel. She has been as well SP Distinguished Lecturer for the years 2014-2015, and now she's AESS Distinguished Lecturer for the years 2015-2017 and member of the IEEE Fellow Committee.
Her general interests are in the areas of statistical signal processing, estimation and detection theory. In particular, her research interests include clutter models, coherent and incoherent detection in non-Gaussian clutter, CFAR techniques, radar waveform diversity and bistatic/mustistatic active and passive radars, cognitive radars. She co-authored many book chapters and more than 190 journal and conference papers.
Antonia Maria TULINO
University of Naples Federico II, Italy
Antonia M. Tulino (F'13) received the Ph.D. degree in electrical engineering from Seconda Università degli Studi di Napoli, Italy, in 1999.
She held research positions with the Center for Wireless Communications, Princeton University, Oulu, Finland, and also with the Università degli Studi del Sannio, Benevento, Italy.
From 2002 to 2016, she has been an Associate Professor with the Università degli Studi di Napoli Federico II, where she has been a Full Professor since 2017. Since 2002, she has been collaborating with Nokia Bell Labs.
Starting from October 2019, she is, also, Research Professor at the at Dep. of Electrical and Computer Engineering NYU Tandon School of Engineering, NY, 11201, USA. In September 2020 she is appointed as teaching director of the 5G Academy jointly organized by the Università degli Studi di Napoli, Federico II and Capgemini leader in digital transformation.
Her research interests lay in the area of communication systems approached with the complementary tools provided by signal processing, information theory, and random matrix theory.
From 2011 to 2013, she has been a member of the Editorial Board of the IEEE Transactions on Information Theory and in 2013, she was elevated to IEEE Fellow. From 2019, she is the chair of the Information Theory society Fellows Committee. She has received several paper awards and among the others the 2009 Stephen O. Rice Prize in the Field of Communications Theory for the best paper published in the IEEE Transactions on Communications in 2008.
She was a recipient of the UC3M-Santander Chair of Excellence from 2018 to 2019.
She has been a principal investigator of several research projects sponsored by the European Union and the Italian National Council, and was selected by the National Academy of Engineering for the Frontiers of Engineering program in 2013.
Silvia Liberata ULLO
University of Sannio, Italy
Silvia L. Ullo. IEEE Senior Member, and the Industry Liaison for the IEEE Italy Joint ComSoc/VTS Chapter. She is a member of the Academic Senate at University of Sannio, and the National Referent for the FIDAPA BPW Italy Sciences and Technologies Task Force. Graduated with laude in Electronic Engineering at the Faculty of Engineering, of Federico II University, in Naples. She received the M.Sc. in Management from the Massachusetts Institute of Technology (MIT) Sloan School of Boston, USA, in June 1992. Since 2004 she is a researcher with the University of Sannio di Benevento, where she teaches Signal theory and elaboration, and Telecommunication networks, courses for the degree in Electronic Engineering and the Optical and radar remote sensing as Ph.D. course. She has authored 80 research papers in reputed journals and conferences, and co-authored many book chapters. Her research interests mainly deal with signal processing, remote sensing, image and satellite data analysis, machine learning applied to satellite data, radar systems, sensor networks, and smart grids. Institutional website at the link:
https://www.unisannio.it/en/user/622/contatti
Patrizia LAMBERTI
University of Salerno, Italy
Patrizia Lamberti (IEEE M'06, ORCID: 0000-0002-5037-8074) received the Laurea degree in electronic engineering and the Ph.D. in information engineering from the University of Salerno (Italy), in 2001 and 2006, respectively. She is Associate Professor of Electrical Engineering at the Department of Information and Electrical Engineering and Applied Mathematics of the University of Salerno (UniSA). She teaches Eletrical Engineering for bachelor degree student in Chemical and in Mechanical Engineering and Transducer for Bioinfomatic and Digital Health for Master degree student in Bioinformatic and Digital Health. She is vice-dean of NanoMates interdepartmental research center (Research Centre for Nanomaterials and Nanotechnology at the University of Salerno) and scientific coordinator for UniSA in the Italian inter-university research center ICEmB (Interaction between Electromagnetic fields and Biological systems). She serves as vice-Chair of IEEE Women in Engineering Affinity Group Italy Section. Prof. Lamberti is co-founder of the UniSA spin-off AI4Health S.r.l. His research interests concern tolerance analysis and robust design of electromagnetic (EM) devices, the EM modeling and characterization of new nanomaterials and devices, the EM treatment of cells and biological systems using Pulsed Electric Field. The research activities of Patrizia Lamberti (h-index 21, Scopus nov. 2020) led to more than 50 journal papers, 3 book chapters, 3 Italian, 2 European and 1 US patents. She has been involved in more than 30 international and national scientific projects as responsible or team member and she is currently UniSA principal investigator for activities concerning EM robust design in 4 European projects founded in the EU-H2020 framework (nov. 2020).
Fiorella LAMBERTI
Leonardo Company
With more than 25 years of experience in aerospace and defence sectors, Fiorella Lamberti started her carrier in system engineering for Earth Observation, Satellite Navigation and Communications space systems, working for many international projects with the main space agencies (NASA, ESA, EUMETSAT, ASI). She was also project leader for many projects of the European Union's Research and Innovation funding programmes, in the field of space, environment and disaster management.
In 2004, she moved to communication, covering different roles for several Italian companies in the aerospace and defence domains. She has been working for Leonardo since 2015, supporting communication campaigns focused on special projects, mainly communication and dissemination activities for funded research projects with the role of Communication Manager.
She also collaborates with several professional organisations, in particular, she is member of the Board of Directors of AFCEA Rome Chapter, and of the IEEE Women in Engineering (WIE) Society, where she coordinates the communication activities for the WIE Affinity Group - Italy Section.
Claudia CONTE
University of Naples Federico II, University of Bergamo, Italy
Claudia Conte received the M.S. degree with laude in Aerospace Engineering from the University of Naples Federico II in 2019. From October 2019 she is involved in the Ph.D. course in Technology, Innovation and Management (University of Naples Federico II and University of Bergamo). Her research activities are focused on the standardization of core enabling guidance, navigation, and control technologies for autonomous transport systems at the Laboratory for Innovative Flight Technologies – LIFT in Centro Servizi Metrologici e Tecnologici Avanzati (University of Naples Federico II). Her research interests also include integrated navigation systems for unmanned vehicles and Unmanned Traffic Management solutions based on Machine Learning approach. She is a student member of IEEE and IEEE Women in Engineering.