Plenary Speaker: Stefano Vitale
Sub-femto-g free-fall with LISA Pathfinder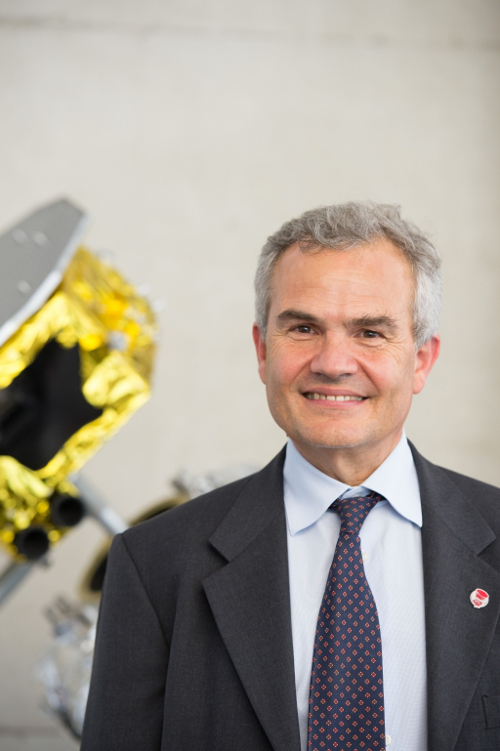 Stefano Vitale
University of Trento, Italy
INFN, Trento, Italy
Italian Space Agency, Italy
SPEAKER BIO
Stefano Vitale is Full Professor of Physics at the University of Trento, Italy.
Head of the Laboratory for Experimental Gravitation at the Department of Physics.
Formerly:
Co-Principal Investigator (co-PI) of the Gravitational Wave Detector AURIGA of the National Institute of Nuclear Physics (INFN) in Italy [LINK];
Member of the International Science Team, and co-PI of the space-borne gravitational wave detector LISA under development by the European Space Agency (ESA) and NASA [LINK] [Stepped down in 2017 for conflict of interest with SPC. See below];
Principal Investigator of LISA Pathfinder, ESA precursor to LISA operated in 2016-2017 [LINK];
Vice-chancellor, University of Trento;
Chair, ESA Fundamental Physics Advisory Group;
Member of ESA Space Science Advisory Committee;
Wise-man on the board of Directors of the Italian Space Agency (ASI) for the revision of the agency statutes;
Member of various advisory and review committees for ESA, INFN/CNRS, Max Planck Society, STFC, ...;
Visiting scholar/professor at Stanford University and UC Berkeley
Currently:
Member of Gravitational Wave International Committee (GWIC) of IUPAP;
Member of the Board of the Gravitational Physics section of the European Physical Society;
Chair of ESA Space Program Committee (SPC), ESA's science program board;
Research on space based gravitational wave detectors and on space missions in gravitational physics at large
More than 230 papers on refereed journals, many tens of plenary and invited talks at international conferences, mostly on gravitational wave physics
ABSTRACT
The talk will briefly review the concept of a space-borne gravitational wave (GW) detector, and of its needs of pure inertial motion (geodesic motion) of reference test-masses. It will discuss then the sub-femto-g performance demonstrated by LISA Pathfinder, ESA's precursor to the LISA GW detector, and its impact on LISA and on the field of gravitational missions at large.